Fast & Efficient Residential Fresh Lock Installation Services in Austin, TX, and Surrounding Areas!
Moving to a new home is stressful and it can be hard to keep up with everything that needs to be done. We'll install your fresh new locks so you won't have to worry about doing it yourself.
No matter what style or color you desire, we will ensure that you get the exact look and feel that you have been dreaming of. Whether you just moved to Austin, TX from a different state, or someone needs a duplicate key, Cedar Park Locksmith Pros is here for you for lock installation.
If anything happens to your lock in the future, we also offer all lockout services. We're here 24 hours a day and 7 days a week at your service.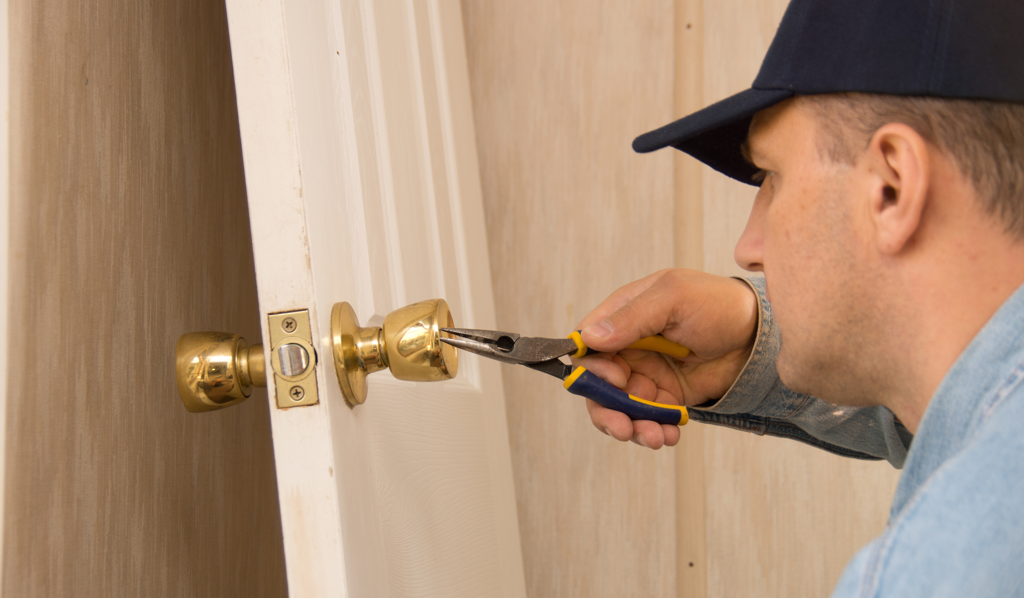 #1 Choice for lock installation services in Austin, TX:
Cedar Park Locksmith Pros specializes in home lock installation services. Our technicians will be able to install the best locks into your home Their knowledge and expertise cannot be matched!
The installation of a lock in a door is simple. It takes less time, approximately an hour. Several types of locks may be installed in a door including passage lock-set, dummy knobs, entry lock-set, deadbolt lock, night latch lock, mortise lock, etc
We know that finding a trustworthy locksmith to install new locks in your home or car is stressful. But don't worry, our licensed and experienced locksmiths provide the fastest, most reliable, and most friendly service in Austin, TX, and surrounding areas. Call us today to schedule an appointment to install new locks into your property.company wants you to feel safe in your new home. Our team of highly qualified
Therefore, ensuring the Safety and Security of your home is our number one priority. We have a vast amount of knowledge dealing with all sorts of complicated jobs so you can rest assured that there is no job we can not handle.
We are committed to our customers and only strive to give you excellent s
Our Residential Lock Installation Services
Installing a lock is one of the most basic jobs a locksmith can do, however, it can be a little more complicated than it looks and if the job is done incorrectly, damage the door or frame. Be sure to consult us for any installation project, including deadbolts and mortise locks on your door.
Our technicians are experienced with every kind of lock, door, and door frame and will make sure you have the best possible home security.
Our lock installation services include:
Emergency lockout solutions
High-security lock installation
Panic devices
Door closers and door pivots
Master keying
Lock replacement
Our professional services include new lock installation, repair, replacement, and maintenance of your home's interior and exterior door locks. Our service team will also perform re-keying or master key systems.
We install and service all types of locks including deadbolts, high security and restricted keys, keyless entry access, mortise cylinders, and more. If you have any questions regarding locks, keys, and security features, our specialists are happy to answer them.
You can also upgrade to a High-Security Lock for added safety and peace of mind. They're made of stronger materials and have a more durable jimmy-proof design along with special features that make picking and bumping pretty much impossible.
We promise!
---
Professional Experts at your Service:
Your security and safety are our top concerns. Whether you have a new home or are looking to upgrade your existing locks, using an expert locksmith is the best way to make sure that the job is done correctly.
Explaining the process, showing you what needs to be worked on, and more importantly, making sure you are comfortable with our work is vital to us.
Our skilled technicians care for clients and we go above and beyond to make sure that all of your needs are met during lock installation. Your security is our specialty, so reach out today. You can never be too safe, and the best way to protect your home or business is with the security measures provided by us.
We know how frustrating these things can be, and when they happen, Cedar Park Locksmith Pros is available to come to your rescue. A professional technician will arrive at your home as soon as possible, ready to ensure that your home or business is safe aga
in.
Why choose Cedar Park Locksmith Pros?
At Cedar Park Locksmith Pros, we offer a lot of different services. We do everything from residential locksmith services to commercial locksmith services and even automotive locksmith services.
With locksmiths on wheels, we can arrive in the 'distress area' in less than no time. Additionally, as our vans are GPS-equipped and there is a strategic placement of standby vans around the city, you needn't worry about late arrivals or waiting for long hours. Our customers can rely on us for:
Top-rated 24/7 service
Arrive in 30 minutes or less
Competitive pricing
Fully licensed and insured experts
Satisfaction guaranteed
15 years of client servicing
State-of-the-art locksmith tools
We love our customers and strive to make them feel like family. When you call Cedar Park Locksmith Pros, we are always available 24/7 no matter the situation. Our goal is to help you with whatever situation you find yourself in!
Cedar Park Locksmith Pros is known throughout the community for our outstanding service and unmatched expertise in all things related to lock installation. We are the best, most experienced company in the area, and we can get you back into your home safely and efficiently
Whatever your problem we CARE about helping YOU! That's right giving back to the community is important.
Just give us a call at +1(512)777-0033 for a quick response and our skilled experts will help you make the best possible choice for your property.
---
CALL US NOW AND HIRE OUR lock installation services COMPANY! (512)777-0033.
---