Go for advanced security solutions with Electronic Keypads in Austin, TX, and surrounding areas today!
You point to your door lock and your security system when you talk to your friends and family about how safe your house is. You feel as though you've done everything you could to protect yourself and your home. But are you sure that the lock on your door is enough to keep out thieves and burglars?
We're afraid your home is vulnerable to intruders. Here is why: These days most thieves know how to easily access your traditional house key lock using tools like bump keys, lock picks, and lock guns. This leaves you and your family susceptible to burglaries and break-ins even if you always remember to lock your door.
So what is the solution for this?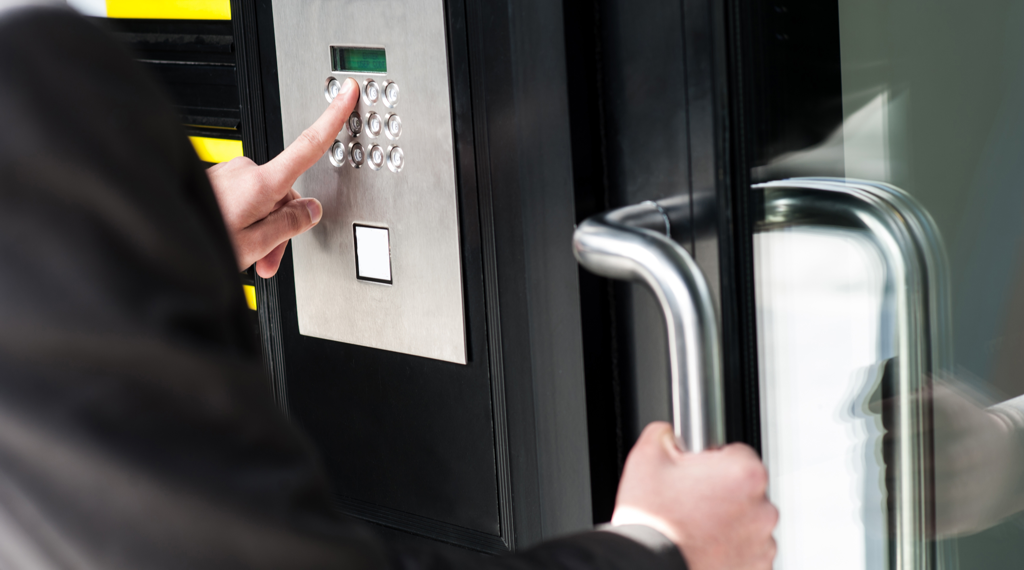 Electronic Keypads – Your key to peace of mind
One of the easiest ways to protect your home from intruders, burglars, and other questionable people is by installing electronic keypads on the doors in your house. This can act as a regular door lock but with added security – in the case of an unauthorized entry, once the door is forced open, an alarm will sound to alert you and hopefully scare off the intruder.
Electric locks are a stylish way to add security without the hassle of changing the way you lock your home. These keyless entry door units come in deadbolt, handleset, and lever styles and fit into most standard doors.
With years of experience under our belt in Austin Texas, Cedar Park Locksmiths Pros is able to provide the best electronic keypad installation service possible. We only hire highly-trained and professional locksmiths who truly know what they are doing. This type of service isn't a joke and can make or break the safety of your property. Trust us in making sure that it's done right.
Don't waste time and make life a breeze by having electronic keypads installed today!
What is Electronic Keypad all about?
Electronic door locks can also be called electric locks. They use an electric current to lock and unlock doors. The most common type of lock is electronic keypads that have computer chips in them.
This type of lock is an electric strike that is particularly intended for the direct replacement of a cylinder in a mortice lock on wooden doors. To unlock, the user may operate a switch or keypad mounted nearby, or use an electronically controlled access device, such as a proximity card. It is also possible to mechanically unlock the latch from the outside with a tool that would come close in function to what one might use to pick the lock.
Why do you need to install Electronic Keypads?
Most of us know that a standard lock can be a hassle, however. In the event that you lose your keys and don't have any spares on hand, you'll be left waiting for an hour for somebody to give you a spare.
If you forget your keys and head to the bathroom, who knows how long you'll be waiting out there in the cold? Fear not – electronic keypads can improve the overall control of your home and help you in a variety of ways possible that include:
Convenience – It eliminates the need for traditional keys and makes it much more convenient to gain access via a keycard, mobile phone, or other devices. With a digital lock system, you won't have to change the locks when they break or hire someone every day of the week to open up your business.
Security – Featuring sophisticated security features, some keyless locks can record who is entering and exiting your home, granting access only to those with legitimate permission.
Longer Lasting – Such locks don't undergo the same level of wear and tear as traditional locks because there are fewer moving parts. That means your lock will last longer and you won't be left outside in a bind!
Ultimately, modern electric locks offer many benefits over traditional key and padlock solutions. They make life easier, are more secure than ever, and they even make your home smarter. Available in a range of styles, including deadbolts, connected entry systems, and keyless entry smart locks; it's easy to find the right type of lock for your front door.
Why choose Cedar Park Locksmith Pros?
At Cedar Park Locksmith Pros, we offer a lot of different services. We do everything from residential locksmith services to commercial locksmith services and even automotive locksmith services.
With locksmiths on wheels, we can arrive in the 'distress area' in less than no time. Additionally, as our vans are GPS-equipped and there is a strategic placement of standby vans around the city, you needn't worry about late arrivals or waiting for long hours. Our customers can rely on us for:
Top-rated 24/7 service
Arrive in 30 minutes or less
Competitive pricing
Fully licensed and insured experts
Satisfaction guaranteed
15 years of client servicing
State-of-the-art locksmith tools
We offer our clients a specialized service in the installation and maintenance of electronic keypads customized to fit each individual need. Our qualified experts will analyze your property and install a reliable locking system that can be integrated with the rest of your home automation system if needed.
A Service you'll love:
We love our customers and strive to make them feel like family. When you call Cedar Park Locksmith Pros, we are always available 24/7 no matter the situation. Our goal is to help you with whatever situation you find yourself in!
Anytime you have doubts about the security of your home or business, getting electronic keypads installed is a smart move. Even if you are completely satisfied with the service that you receive from our company, the peace of mind provided by knowing that your property is safer than ever is irrefutable.
Whatever your problem we CARE about helping YOU! That's right giving back to the community is important. We also ensure that the installation is properly done to ensure the safety and security of your property.
Just give us a call at +1(512)777-0033 for a quick response and our skilled experts will help you make the best possible choice for your property.
---
CALL US NOW AND HIRE OUR electronic keypads services COMPANY! (512)777-0033.
---